Wonder what's so special in those top affiliates' sites that your site lacks? Wish you could get past those targets and win rewarding prices from affiliate networks, like a sponsored trip to Switzerland maybe?
It's great to know that you're zealous about your work. But, to tell you the truth, tracking analytics data all day isn't going to help you achieve your dream affiliate revenue figures. These affiliate experts who seem to have figured it all out are merely combining their SEO efforts with tireless conversion optimization tips to make killer landing pages.
Of course you know about
A/B testing
and have probably been using it for quite a while. Maybe after a series of tests where you tested headline, copy, and images, you have come to the conclusion that your landing page cannot be optimized any further than this in its current design. Chances are this is where you're going wrong.
Here are the three unusual landing page optimization tips that majority of you are probably missing:
#1 Tell Them You're Concerned about Their Privacy
Many of you might be shrugging your shoulders claiming, "I knew about this one". Still, it would be surprising to see how many of you actually have it implemented on your website. Take this as a reminder if not anything new you learned. And for once, get off your lazy ass and try adding some statement like, "we respect your privacy" anywhere close to your form where you're collecting personal information or email IDs.
Privacy lines not only improve overall trust of consumers in your site and your conversion figures, they sometimes also contribute to your website quality scores by Google. See how
Practical eCommerce
makes it work for them:
#2 Experiment With Your Call-to-Action Buttons
Relax! Contrary to your "raised-eyebrows" expression, this isn't really as cliché as you're expecting.
You may want to listen to Landing Page Optimization expert, Tim Aish in an interview, or you maybe a believer of Brian Massey, the author of Your Customer Creation Equation and the conversion scientist who appeared in an interview on this website. You'll see a common perspective of these gurus about CTAs – both agree that you shouldn't have more than one CTA on one page.
But what if you have no way out? You have more than one CTA that you want to include on the same page. If you're stuck in any such situation, it's worth prioritizing your CTAs first and then setting them next to each other maybe. You can make the primary CTA prominent on the page by using contrasting colors while you can use slightly-blending color for the secondary CTA. This is how
MailChimp.com
implements it:
You can even use a bigger button size for your primary CTA and a smaller button size for your secondary CTA, as it is given in this image from wufoo.com:
Now tell me, wasn't it refreshing to hear something beyond "try out the orange color or the red color for button colors" as the suggestion?
#3 Go Beyond the Usual Button Text
Many times visitors hesitate in taking your desired action, thinking that it might be too expensive, that it may take too much time, or sometimes they may think that they will start getting spam mails when they submit their mail ID on your website. Address these anxiety concerns right where you want them to take action. That's right! Mention it on your CTA button.
In the image given here, you can check out how
BaseCamp
makes it clear for their visitors that it will take only 60 seconds for them for sign up and that they do not have to pay anything for it, it's a 30-day free trial.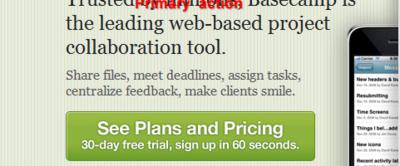 Having suggested all of this, I do expect that you guys do not act all naïve and just take my word for these suggestions and make them permanently live on your website. Be sure to test them first. In the end, these are only suggested hypotheses that you can try for your killer landing page, which is not only aesthetically appealing but also works best for higher conversions.
Smriti Chawla is a Content Marketer withWingify, the company behind the success of Visual Website Optimizer, which isone of the leading A B testing tools in the industry.