19 May 19 12:26 pm
SEO blogs excluded for indexing by Google Search Console?
Dear Affiliate marketeers,
Since a while I have an affiliate blog targeted at the Dutch market. And it has been steadily growing in organic search results the past year, and I never encountered any problems regarding indexing of the website. I now have over 100 blogs and had around 8000 unique visitors a month (which is quite nice for my niche).
However for some reasons I cannot understand Google decided to exclude some good ranking blogs. As a result traffic dropped down with almost 40% in one week.
Some of these blogs are Excluded as page with redirect and some are Excluded as crawled - but currently not indexed.
Now I cannot make anything of this, important to know is
- I have a regular wordpress website with a simple theme, I rarely adjust any settings and link structure has always been the same
- I noticed some of these blogs are already excluded around may 2018. But more recently (beginning of may 2019) a few more and high ranking blogs where added. Almost all the important blogs are added to the category crawled - but not indexed.
- It concerns blogs that are published in 2017, 2018 en 2019, which have not been adjusted or edited after publishing.
- It seems some blogs are still shown in the search results, despite being classified as excluded, while some other blogs are not show at all (0 views, 0 click)
- Oddly enough, I can see various blogs still in the search results (even while I am not logged in) while Google claims they are not show in the search results. (0 views, 0 clicks)
- It seems since yesterday Google also claims some blogs are blocked by Robots.txt. However Robots.txt is not blocking anything, I double checked.
I ofcourse tried to inspect the URL's in the GOogle search console to find out what is the problem. However without exception I get the below messages.

When I try to inspect live it says indexingrequest rejected. Sometimes it says 'something went wrong, if the problem persists, try again in a few hours.'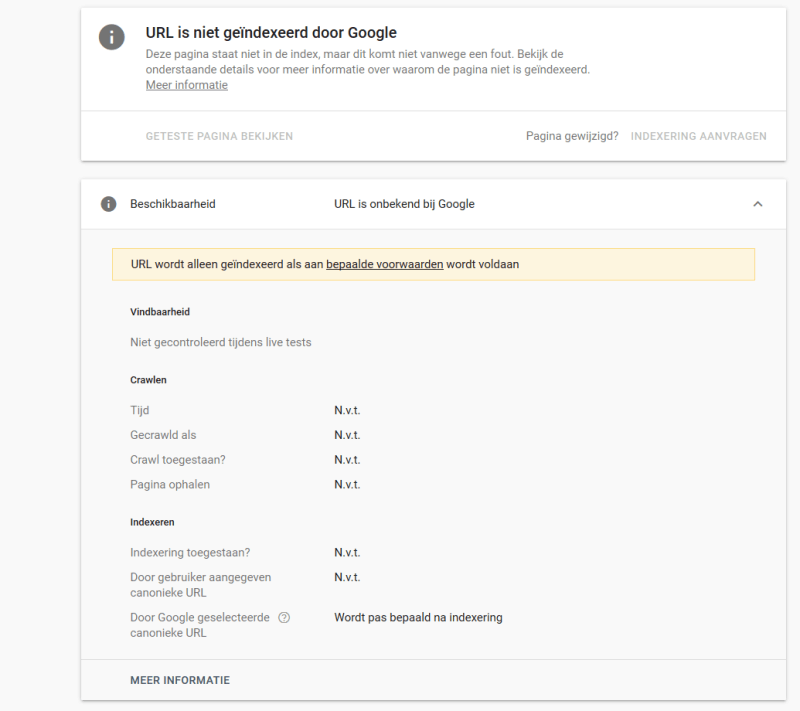 After that the live URL inspection does not give any info about the indexing state of the website or why there is a problem.
I hope my questions is a clear; TLDR; Google excluding blogs from indexing suddenly without any particulair reason (no settings adjusted or anything adjusted for that matter).
I hope you guys can give me some advise as where to look to find and solve the problem.
Edit: This is my current Robots.txt
User-agent: *
Disallow: /wp-admin/
Allow: /wp-admin/admin-ajax.php