Finding and Registering a Domain Name
An important part of setting up and running an affiliate site is finding an appropriate domain name. In this lesson we look at Finding and Registering a Domain Name - we'll look at how you can find the most effective available domain name and what to look for in a domain name registrar.
Brainstorming
The first step before you register a domain name is actually coming up with a suitable idea. How you do this is up to you - with a computer or with pen and paper - pick your favorite brainstorming method.
You'll see many affiliates lamenting the fact that the best and shortest domain names are already taken - sadly that's often true. However, we recommend trying variations of your keywords, using both hyphenated and non-hyphenated forms.
To help speed things up, you may want to employ some tools to help ease the dirty work of finding available domain names. There are a few out there:
Nameboy
Nameboy.com lets you enter one or two words into their search boxes; Nameboy will perform some thesaurus magic on these words to come back with a variety of combinations.
Domain names that are available have green boxes with a checkbox inside, underneath the TLD that has availability.
Often there will be several pages of suggestions of varying quality, including some very odd suggestions - but don't worry, these suggestions are often a good way of getting the creative juices flowing a bit, and they can be kind of fun too.
Be careful with Nameboy though - occasionally Nameboy will say a domain is available when it isn't, so don't take these results as gospel: run them through a different domain name checker to be sure.
Also be aware that the cost of registering a domain through Nameboy is about $5 or $6 higher than many other places, so its worth taking these results and purchasing your domain name elsewhere - sorry Nameboy!
DomainsBot
DomainsBot.com is similar to Nameboy, but with more options and a slightly less intuitive interface. When you visit the site you're prompted to enter a domain, keywords or a short sentence. The website will automatically pop down a window showing you if the whole phrase you type is available as a domain.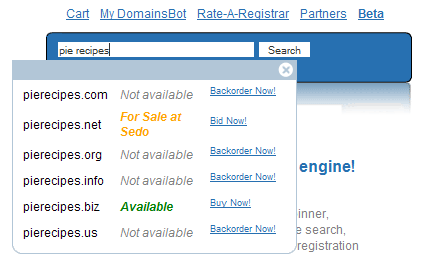 If you ignore this and hit "search" it will turn up synonyms for your phrase, along with their availability.
Note that with this site there are four options for availability:
Registered

The domain name is not available

For Sale

The domain name is being offered for sale by the current owner. Clicking on the "bid now" button will take you to the site that is selling the domain. Sometimes they will tell you the price, other times it will be a "blind" bidding situation: You enter what you're prepared to pay without any real idea of what the domain is worth. We recommend you skip past these ones for the time being and look for a domain that isn't already owned.

Expiring

The domain is currently owned, but the ownership is due to expire pretty soon. Just because it says it's expiring, this doesn't necessarily mean that it will expire. Even after a domain officially "expires", the owner has a grace period of around 30 days to renew it. That said, if you're patient you can sometimes nab some good domains by "backordering" expiring domains. This essentially puts you next in the queue for ownership if and when the domain becomes available. The cost for this varies between registrars... some only charge you when they actually secure the domain for you (but the fee may be higher) while others might charge you a yearly fee for "watching" the domain, but there's no guarantee that it will actually become available.

Available

This last option is the one you're really hoping to see - it means the domain is available and you can snap it up.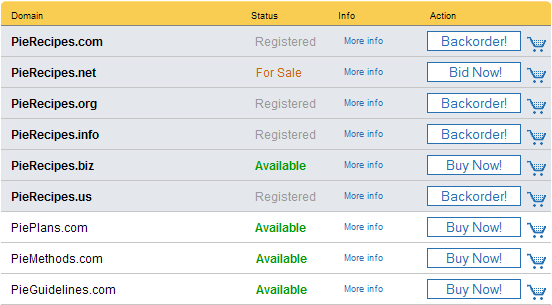 The nice thing with DomainsBot is that you can filter results using the menu on the right hand side. For an initial sweep we would take it down to just the .com, .net and .org TLDs, only look for "available" domains, and not include hyphens, numbers or bad words at this stage. You can also pick synonyms for your keywords and repeat the search using those. Once you've ticked or unticked the relevant boxes, click "update results".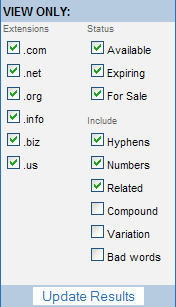 If you find a good domain name, you can either click on "buy now" which will prompt you to choose your preferred registrar from a (short) list, or you can just write the domain name down and go to your registrar of choice under your own steam.
Domain Registrars
What is a domain registrar?
A registrar is simply a company that allows you to buy and control your domain names
How do you choose one?
When it comes to choosing a registrar, it pays to shop around. Prices for domain names can vary wildly, from $5 per year up to $35 per year. Don't always assume that if you pay more you'll get better service - for the most part, once you've bought your domain name you don't actually need much in the way of "service" anyway, and you can easily still get terrible service with a $35 domain name.
Things to look for in a registrar
Bonuses
Often you'll be offered a slew of bonuses or optional add-ons when you purchase a domain name. Sometimes one registrar might offer something for free, while another one charges you for it, so have a little dig down before you decide on one registrar over another.
Whois Protection
One extra that you might be interested in is "whois protection" - this removes your own personal contact details, (such as your name, address and phone number), from the "whois" register (which is publicly searchable) and replaces it with that of your registrar, thus ensuring that you can't be easily traced to your domain name. GoDaddy charges $9 per year for this service, while NameCheap offers it for free for one year.
Control Panel
Although not critical, a control panel is of considerable use when trying to perform simple tasks such as updating your name servers and unlocking/locking your domain. Although most registrars offer this, some do not and you will be required to ticket their support every time you want something changed.
Support
Just like with web hosting, you want a reliable domain registrar who can respond quickly to any concerns or complaints you may have. Although you generally won't require support for your domain, having it available is always a good idea.
Be sure to check out the registrar's support page - an ideal registrar will provide phone and email support, but some only allow you to contact them with support tickets via their website. If they do have a phone number take the opportunity to test their phone system and call center by calling pre-sales support.
Other things to check
Be careful of registrars who have additional charges or restrictions on things that really shouldn't be charged for - 1&1, for instance, only allow you 5 subdomains, which is somewhat ridiculous; some registrars will also charge you if you decide to transfer your domain to another registrar.
Our recommended domain registrars
GoDaddy
Godaddy's website can be a little befuddling, and they do hit you up for a bunch of optional "extras" before you reach the actual checkout, but their prices are reasonable, the admin panel is good and customer support is available.
Namecheap
Namecheap has a user-friendly site, has low prices, no hidden fees or restrictions and, often, you'll get one year's "whois guard" for free.
HINT: If you perform a Google search for the name of your registrar plus "coupon" you will often be able to find codes to give you a modest discount on your domain name (perhaps $1 or so!) Not so exciting for one domain name, but if you're registering a few it's worth looking into!
Should I buy my domain name and hosting from the same company?
Whether you want to buy your hosting and domain name from the same company is up to you. There are some things you should know, though:
Pros:
If you buy your hosting and domain together, the company will usually set them up so that they work together automatically. It isn't difficult to do it yourself but it can seem complicated the first time.
(Read our lesson on Linking your Domain with your Hosting)
If you have problems, you'll only have one support team to contact and they should be able to sort it out regardless of whether it's a problem with your domain or a problem with your hosting. If you have your services with separate companies you might find yourself being shunted back and forth as each company denies responsibility!
Cons:
If you're paranoid about these things, you might not like the idea of having both your domain and your hosting in the hands of one company. Given that a company receives more ongoing business from your hosting account than from your once-yearly domain name registration, they might choose to make things difficult if you want to shift hosting providers. They can, effectively, hold your domain to ransom.

In contrast, a company that is only responsible for your domain name is hardly going to kick up a stink if you choose to transfer it to a different registrar. They only lose a few dollars.

Lastly, you should be particularly careful with companies who offer a "free domain" when you purchase hosting. Be very sure that it is YOU who owns the domain name, not the hosting provider, and that you are free to transfer it to another registrar if you ever choose to.
How to purchase a domain name
Purchasing a domain name is generally very simple. Go to your registrar of choice. Find the domain name you wish to purchase, and then just click the "add to cart" button and proceed to their checkout. You might be prompted to set up a user account first. Once that's done, just decide if you want any of the optional extras, submit your payment details, and you're done! All the information you need to administer your domain will be emailed to you.
Lesson Summary
In this lesson we've looked at ways you can come up with ideas for domain names, including:
Brainstorming
Using Nameboy or Domainsbot
We've also taken a look at what a domain registrar is, and how you can choose one.